The Conrad N. Hilton Foundation is a family foundation that provides funds to nonprofit organizations to improve the lives of disadvantaged and vulnerable people worldwide. David oversaw the digital content development and creative direction for the Hilton Foundation's institutional communications, programs and the Hilton Humanitarian Prize.
Creative Direction
As part of the Hilton Foundation's Communication team and collaborating with a team of design firms, graphic designers, video production teams and photographers, David provided creative direction to all printed and digital design projects for programs, the Hilton Humanitarian Prize as well as the organization's internal collateral needs.
Brand Management
As the Hilton Foundation's lead on Creative development projects, David has the oversight on the organization's brand visual identity. We implemented a robust visual identity style guide that is reflected in every designed collateral that we produce. In collaboration with the leadership team, we are able to seamlessly integrate our brand identity from the campus building to a program convening in Africa.
Video Production
The Hilton Foundation's goal is to lift up the voices of our partners and lived experience. With this, David oversaw a group of video producers both in the United States and Africa to tell the stories of how our work is impacting lives around the world. He oversaw video productions from the President and CEO's message in Westlake Village, California; the annual Hilton Humanitarian Prize, which is live streamed globally; to filming the Foundation's Safe Water project in Kamwenge, Uganda.
Visual storytelling through motion graphics
Telling a story of a global foundation is complex. By collaborating with Osmosis Films, we developed a modern video about the Conrad N. Hilton Foundation that speaks about our work and evokes the organization's ambitious goals.
Showing a complex program strategy visually
Working with the Catholic Sisters Initiative and collaborating with New York-based Osmosis Films, we developed a motion graphics video piece to depict the new program strategy. The video successfully communicated the goals and metrics of the program and have been proven a key digital content asset whenever the team presents the strategy to a diverse audience.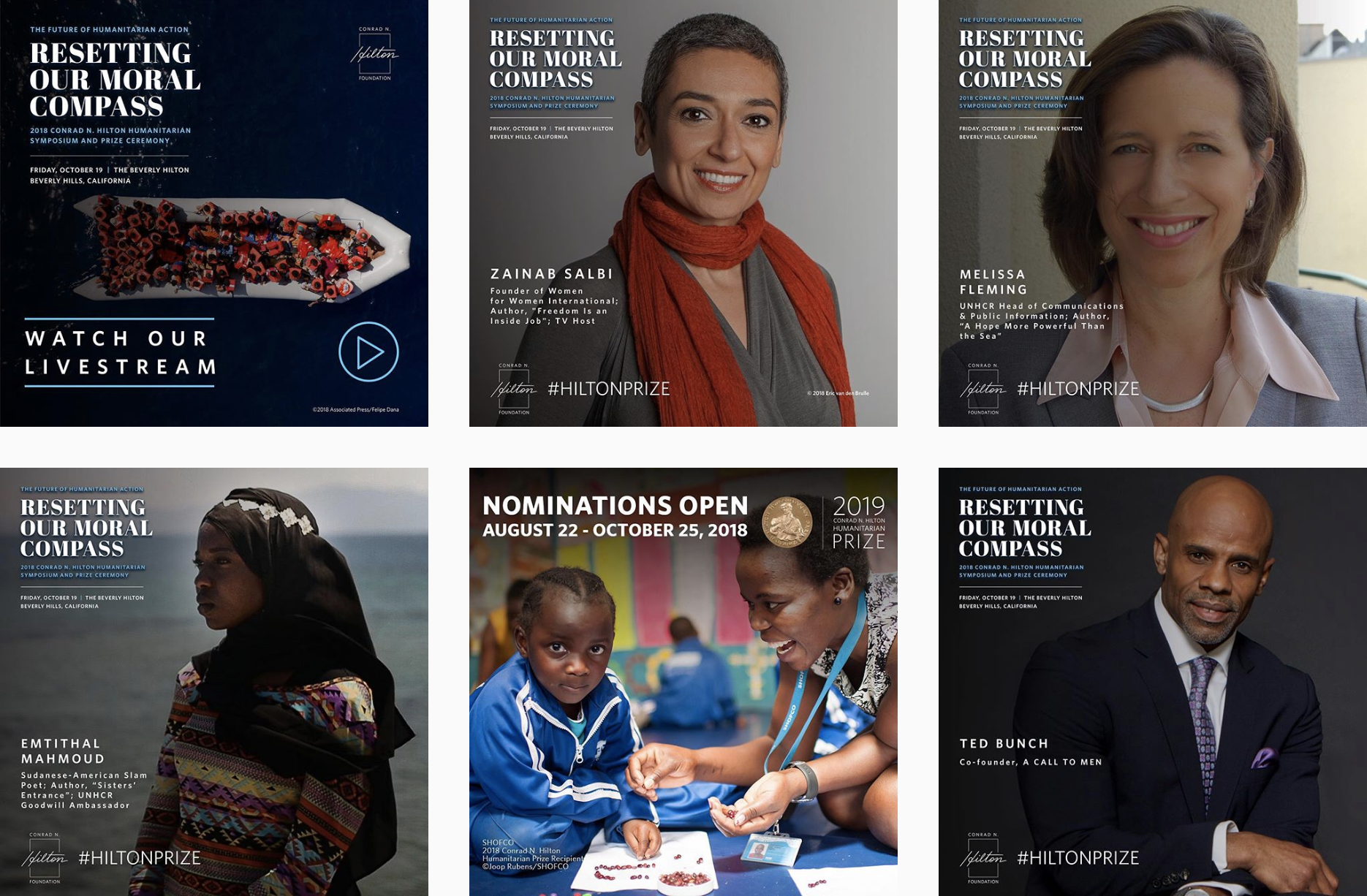 Digital and Social Media Campaigns
The Digital and Creative team works with the Program and Hilton Humanitarian Prize teams to implement digital campaigns to elevate the stories of their recipients. We employed a series of messaging, social media and video content to engage the Hilton Foundation audience. We also coordinated with our global partners to spread the word about our campaigns with the goal to change the hearts and minds of policymakers and humanitarian leaders.